[important]Battle Lines Drawn – Wisconsin [/important]
>by Robert L. Gallimore |DLU| June 06, 2012 |
Maybe what "DNC chair Rep. Debbie Wasserman Schultz (D-FL) said [that] the upcoming Wisconsin gubernatorial recall race is a 'test run' for the Democratic election machine in presidential battleground states [and nation-wide]." We need to get real [serious here], we're in serious trouble this election if this gubernatorial recall race has any indication to the upcoming Presidential race. …I can't believe this crap and there needs to be some serious soul searching here because time is getting real short, shorter by the day – people! I for one, like waking up to a Blue sky in the morning! What about you? Think on that?
There is a picture, chart below and it shows that "outside [the state] influences where involved and changed [possibly changed] the outcome of the race!" Well guess what? …If you believe that and you think that it's all about the money – maybe! However, I call it Mickey Mouse BS and money is involved in spending to influence the race – negativity! But, people have it in their minds already who they're voting for and these ads should be making them even more determined to GOTV !
However, the question remains, why? Why is big money people influencing the race [elections] in this manner? Because of the Supreme Court ruling and there are "Life Changing Events" happening to the people on the Right with the money to spend! These changing events — "Sentinel Events"– are changing their lives because they never imagined a Minority in the White House; making major changes affecting them. And people, everyday Americans are becoming more and more a wear of what's happening around them and how these big money people are destroying their lives – daily!
How, by the products that they produce in ways too numerous to list, by eliminating collective bargaining rights, by outsourcing jobs, by voting suppression ID laws and by eliminating "What We Stand For" in America and as Americans! We have people power, boots on the ground that became evident during the recall appeals process that appears to have vanished during this process of voting  GOP Gov. Scott Walker – out. What happen to it, where did it go? We have the numbers and you can't tell me and the people that were watching all over this country that are disappointed in the outcome –it's outside influences spending money that has changed the outcome in their favor! Something else happen to us out there or the GOP is up to their old tricks again and maybe the Department of Justice should look into this.
Inasmuch, we're in trouble come this November if we don't find out what it is besides their big money! We have the numbers [people power] and you can't tell me and the people watching – anything different! We all need to think on this and come-up with a workable game plan and regroup – quick! I don't mean for this to sound like an old fashion tongue lashing and I guess you can tell that I'm real upset; people all over this country are upset by this. What happen in Wisconsin should been uplifting and motivating for us. Consequently, June 5th 2012 was a discouraging moment for us and this may have national implications on the upcoming November 2012 election(s); if this sense of hopelessness isn't corrected -immediately!
List of Related Stories:
---
[important] Re-elect the President and Turn Congress – Blue! [/important]
---
Let me repeat! And if you tweet! #RT Join me, Join the # DLU – Re-elect the President and Turn Congress – Blue! [Say it!]

Support President Obama and the Democratic Party! Make your contributions – Today!


We need people to come together and support the President in this election of 2012, the push to turn Congress and this Country – Blue; strengthening our democracy.Your supports are vital to our success — take this opportunity and donate today. In addition, the GOP is spending 1 billion dollars to remove Obama from the office of: POTUS! This group consisting of K och's, K arl Rove and in the shadows the K han because Obama has caused a "Life Changing Event "- for them! Let's make this event last four more years for the three K's!

Thanks you! Democratic Liberal Umbrella – Organization of Mainstream Americans! Join the DLU!
Let's Be Liberals and Vote the Right-wing – Out!
Democratic Liberal Umbrella will give you the bitter and the sweet! Join the cause
– Your Support Helps! …Enjoy! I'm ready for a game of Chess – Gbismarc!
---
[important]There were some Walker-Obama voters on Tuesday[/important]
In exit polls Tuesday, 53% of Wisconsin voters said they favored Democrat Barack Obama for president and 42% said they favored Republican Mitt Romney.
Obama wasn't on the ballot Tuesday, of course, but in the exit polls he got the support of 18% of Walker voters and 92% of Barrett voters.
Romney got the support of 5% of Barrett voters and only 67% of Walker voters (24% of Walker voters said they favored neither Obama or Romney).
The numbers show a notable amount of crossover between the recall race and the presidential race – in Obama's and Walker's favor. They also suggest a Walker victory in the governor's race does not necessarily translate into a presidential victory for Republicans in Wisconsin this November.
Obama kept his public role in the recall fight to a minimum, deciding against any personal campaigning in the state and limiting his public comments in the home stretch to a supportive tweet for Barrett.
Also in the exit polling, voters said by a margin of 44% to 36% that Obama would do a better job of improving the economy than Romney, and by a margin of 47% to 35% said Obama would do a better job of helping the middle class.
Wisconsin is one of a dozen or so presidential battlegrounds this year. In a recent video to supporters, the Obama campaign listed Wisconsin among seven tossup states. The others were Ohio, Iowa, Florida, Virginia, New Hampshire, Colorado and North Carolina.
Among those states, Wisconsin has the most Democratic track record in presidential voting. It hasn't voted Republican since Ronald Reagan in 1984. And of the seven, it's the state Obama won most easily in 2008, when his margin was 14 points.
Walker's victory Tuesday would seem to guarantee an all-out Romney effort to flip Wisconsin from blue to red. And while recent public polls and Tuesday's exit poll suggest Obama has the advantage here, he is hardly secure.
Obama strategists argue the outcome of the recall has little bearing on November, but Republicans contend a Walker victory, especially one by more than a point or two, signals that Obama is vulnerable here.
Wisconsin gubernatorial recall results
Updated: 2:55 AM | Wisconsin gubernatorial recall results by county, updating every 5-7 minutes. Click on a county for a vote count and percent of votes won or view statewide results map .
---
[notice] DNC Chair: Wisconsin Recall A 'Test Run' For Democrats In Presidential Battlegrounds[/notice]
>by Sahil Kapur  | 2:50 PM EDT, Sunday May 27, 2012 |
On CNN's "State of the Union" Sunday, DNC chair Rep. Debbie Wasserman Schultz (D-FL) said the upcoming Wisconsin gubernatorial recall race is a "test run" for the Democratic election machine in presidential battleground states.
The following is her exchange with Candy Crowley, who asked her about the national implications of the recall.
CROWLEY: If the Republican governor should retain his seat up there, what will it say about the power of unions who have been fighting him and what will it say about putting Wisconsin in play this fall?

WASSERMAN SCHULTZ: Well, I am going there Tuesday to campaign with Mayor Barrett. I think that he has a real opportunity to win. We have put our considerable grassroots resources behind him. All of the Obama for America and state party resources, our grassroots network is fully…

CROWLEY: But are there national implications?

WASSERMAN SCHULTZ: … engaged. And – well, I think what's going to happen is that because of our on-the-ground operation, we have had an opportunity in this election, because especially given that Wisconsin is a battleground state, just like we did in the recall elections a year ago, to give this a test run.

And so what I think the implications will be is that ultimately I think Tom Barrett will pull this out, but regardless it has given the Obama for America operation an opportunity to do…

CROWLEY: Test run it.

WASSERMAN SCHULTZ: … the dry run that we need of our massive, significant, dynamic grassroots presidential campaign, which can't really be matched by the Romney campaign or the Republicans because they've ignored on the ground operations.
---
Don't expect President Obama to stop attacking Mitt Romney's business record any time soon.Former spokesman Robert Gibbs said the issue is relevant because Bain Capital, Ronmey's former private equity firm, is about making money, even if it means cutting jobs and shutting down companies."What Bain Capital never did was focus on job creation," said Gibbs, now a campaign surrogate, on CBS's Face the Nation .Obama campaign attacks on Bain are making some Democrats uneasy, concerned that they sound too much like attacks on business overall.
"This has nothing to do with being anti-business," Gibbs said when asked about the criticism, adding that Romney was "very good at making money for his partners; he's not good at creating jobs."Romney adviser Ed Gillespie, also appearing on Face the Nation , called that an incorrect analysis, adding that less than 5% of the companies that Bain worked with went under.On the other hand, Gillespie said that "80% of the companies they invested in grew" and created jobs.Romney himself says Obama's criticism is a virtual attack on free enterprise."Someone who's never spent a day in the private sector, like President Obama, simply doesn't understand," Romney said last week.
---
[notice]Debbie Wasserman Schulz is Wrong on Wisconsin[/notice]
>by LaFeminista | Sourced from DailyKos | Posted at May 26, 2012, 9:58 am |
 If Walker wins in Wisconsin she apparently believes
"there aren't going to be any repercussions,"
Because:
"But I think it'll be, at the end of the day, a Wisconsin-based election, and like I said, across the rest of the country and including in Wisconsin, President Obama is ahead."
One of the most radical governors in  US history whose stated purpose is to  crush the remnants of the trade unions  in his state for the sole benefit of the 0.001% is merely local? That this buying of an election will not motivate them to spend even more as they swamp the media for November?I would have thought after the recall that this was a must win for the Democratic Party. A Walker win will encourage other radical right wing governors and state legislators that they can basically do what they please; because money is enough.
I agree with  Rachel Maddow on this point :
Rachel Maddow was in barely-controlled-panic mode on her show last night as she assessed Wisconsin's upcoming recall election, which pits sitting GOP Gov. Scott Walker against Democrat Tom Barrett, the Mayor of Wisconsin. "Democrats should be fighting like the existence of their party depends on it," she told viewers. "Because it does."
Debbie  Wasserman Schultz should be listening
Maddow wonders whether state and national Democrats really get what's at stake in "the most important election in the country before the general election."
If Walker wins then the Republican Party backers will be encouraged to spend even more.

With the DNC's current attitude, Unions may be discouraged in their backing of the Democratic Party. De-motivation is a powerful weapon in politics, if you fight and lose is one thing, if you don't fight in the first place; it's shocking.

You need to fight every political battle as if it is your last, and the Republican Party are very good at that as the last four years have more than demonstrated, every State matters.

Always remember that when they talk about "The right to work" that this has nothing to do with you.

Politics may be local, but it all adds up.
---
[notice]Warning signs for Obama on path to electoral votes[/notice]
President Barack Obama faces new warning signs in a once-promising Southern state and typically Democratic-voting Midwestern states roughly five months before the election even as he benefits nationally from encouraging economic news.
Obama's new worries about North Carolina and Wisconsin offer opportunities for Republican Mitt Romney, who must peel off states Obama won in 2008 if he's to cobble together the 270 electoral votes needed to oust the incumbent in November.
Iowa, which kicked off the campaign in January, is now expected to be tight to the finish, while New Mexico, thought early to be pivotal, seems to be drifting into Democratic territory.
If the election were today, Obama would likely win 247 electoral votes to Romney's 206, according to an Associated Press analysis of polls, ad spending and key developments in states, along with interviews with more than a dozen Republican and Democratic strategists both inside and outside of the two campaigns.
Seven states, offering a combined 85 electoral votes, are viewed as too close to give either candidate a meaningful advantage: Colorado, Florida, Iowa, Nevada, New Hampshire, Ohio and Virginia.
"As of today, the advantage still lies with the president, but there is a long and hard road ahead in this election," said Tad Devine, who was a top strategist to Democratic presidential candidates Al Gore and John Kerry but isn't directly involved in this year's race.
If Romney wins all the states Republican John McCain carried in 2008 plus North Carolina, as trends today suggest he would, he would still need 64 electoral votes to hit the magic number. That would require him to win a majority of the states that are up for grabs.
Obama, on the other hand, faces the costly and labor-intensive challenge of defending those states in a much different environment than the one he enjoyed four years ago.
Big-spending, pro-Romney political committees are certain to be a factor, and already are running heavy levels of television ads in states where Obama is vulnerable, such as Florida.
But Obama's early spending — more than $30 million on advertising before Memorial Day — and new glimmers of economic hope across the battleground states demonstrate the size of Romney's challenge.
The race is expected to be close, and the past six weeks have been volatile.
North Carolina is a case in point.
Obama announced his support for gay marriage on May 9, one day after 60 percent of North Carolina voters approved a constitutional ban. "That issue definitely hurts him down there," said veteran Republican presidential campaign strategist Charlie Black, a top aide to 2008 nominee McCain. Black's not directly involved in this year's race but is an informal adviser to Romney.
North Carolina's high African American and young voter population, keys to Obama's 2008 wins there, give him the edge, aides say. And the president so far has spent heavily there, $2.7 million on television, according to reports provided to the AP.
But Democratic Gov. Bev Perdue gave Republicans an opening by not seeking re-election this year. And union leaders, a key Democratic constituency, are upset that this summer's Democratic National Convention in Charlotte, N.C., is being held in a state where union rights are weak.
In Wisconsin, embattled Republican Gov. Scott Walker's improving fortunes as a contentious June 5 recall election approaches could alter that state's landscape. Walker, who sparked mass protests by signing anti-union legislation last year, has pulled narrowly ahead of Democratic Milwaukee Mayor Tom Barrett in recent polls.
If Walker survives, Romney aides say they have a real chance to carry Wisconsin, which no Republican has done since Ronald Reagan in 1984.
"I don't think there's been any better dress rehearsal for a presidential election than what's going on in Wisconsin right now," said Rich Beeson, political director for the former Massachusetts governor.
Indeed, the Wisconsin recall could signal a GOP shift in an arc of states from Iowa to Pennsylvania that have reliably voted Democratic in presidential elections for a generation.
"Whether Walker wins or doesn't is going to be a big indicator of how Wisconsin goes, and how the whole upper Midwest goes," said Iowa's Republican Gov. Terry Branstad.
Romney has signaled plans to contest Iowa, where Obama's 2008 caucus win propelled him to the Democratic nomination. Romney also sees opportunity in his native Michigan, where Democratic presidential candidates have won since 1988.
Bright spots are developing for Obama, too.
Public polls this month showed the president narrowly ahead in Virginia, a Southern state Republicans had carried nine times before Obama won it in 2008. Obama's advantage among Latino voters is moving New Mexico his way. Neither campaign nor the super PAC s have advertised there, despite close finishes in 2000 and 2004.
Obama also has seized on new economic data that could give him a lift across the contested map. April unemployment ticked downward in all of the up-for-grabs states except Colorado as Obama and Romney have fought over who is best equipped to lead an economic recovery.
In Des Moines, Iowa, this month, Romney blamed Obama's spending for the recovery's slow pace. A week later, on the other side of town, Obama said Romney's career as a private equity executive was more suited for the boardroom than the Oval Office.
Obama's attack dovetails with scathing ads on Romney's career at the head of Bain Capital, which ran briefly in Colorado, Iowa, Pennsylvania and Virginia. They remained on the air last week in Ohio, where Obama aides say Romney's opposition to the auto industry bailout in 2009 hurts him with workers in the region's auto manufacturing sector.
Obama has had an edge in getting out his message. For nearly two months, his campaign has aired spots across 11 states, heaviest in Florida, Iowa, Ohio and Virginia, according to the ad-tracking reports.
Romney has only been airing ads for two weeks in four states. But super PAC s that support him have helped shave Obama's advertising edge, airing $10 million in ads across 10 states.
Obama aides point to an edge in state-by-state organizing that could be the deciding factor in a close election. While Romney is quickly arranging with the Republican National Committee to deploy staff to various battlegrounds, Obama's campaign has been up and running for years.
Said Democratic strategist Devine: "The president and his campaign have a real and potentially decisive advantage on the ground."
---
[notice]Early attacks signal a nasty presidential race[/notice]
>by Tom Cohen , CNN |Updated 3:02 PM EDT, Fri May 25, 2012 |
Washington ( CNN ) — Poll results and strong fundraising portend a tight presidential election in November. The rising heat of political rhetoric by the candidates and their surrogates guarantees it will be nasty and brutal.
President Barack Obama has ratcheted up his criticism of certain Republican opponent Mitt Romney, using a campaign speech Thursday in Iowa to accuse the former Massachusetts governor of a "cow pie of distortion" about the records of both men.
At the same time, Obama kept up his attack on Romney's background in private equity, saying it focused on the business objective of maximizing profit but lacked perception of what's best for the country as a whole.
"The challenge we face right now — the challenge we've faced for over a decade — is that harder work hasn't led to higher incomes. Bigger profits haven't led to better jobs," Obama said. "And you can't solve that problem if you can't even see that it's a problem. And he doesn't see it's a problem."
That's in response to mantra-like assaults by Romney that Obama's policies have failed and he broke promises to the American people on cutting the deficit and creating jobs.
"This president has failed the American people with policies that have not put America back to work, and I think the American people recognize not only is he responsible for a tepid recovery, he is responsible for putting America on a track which does not lead to a stronger, more robust economy long-term either," Romney said in an interview this week with Time magazine.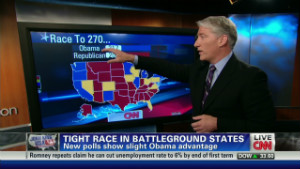 Tight race in battle ground states

While the topics of attack are no surprise, the harsh and direct nature of the rhetoric more than five months before votes get cast shows the campaign accelerating in a mean-spirited direction.
Sitting presidents typically don't directly engage their re-election opponent before the nomination has been secured, leaving the task to the vice president and other surrogates.
With Romney certain to clinch the GOP nomination this summer, and both the candidate and the entire Republican machine including congressional leaders, the Republican National Committee and supporting super- PAC s fully trained on Obama, the president and his supporters have fully joined the fray.
A combination of the tight race, super-PAC funding and the political divisiveness of the country contributes to the sharp early edge.
"The campaign has gotten nasty earlier than typically is the case," noted Darrell West, director of governance studies at the Brookings Institution. "I'm expecting it be a nasty campaign, so that it started negative kind of confirms the type of campaign we're going to see."
West cited the closeness of the race and the proliferation of super- PAC s spending millions on advertising at such an early stage as reasons for the initial negative tone.
"I think what's unique to this race is it's going to be a close and competitive race that will come down to 10,000-20,000 votes in eight or nine states, and so any way they can gain an advantage, they're going to use it," he said.
In addition, the campaigns and super- PAC s supporting them have more money to spend than usual, allowing for a steady wave of attack ads instead of holding back for a blitz closer to the vote.
"If you have money, you can spend early and late," West said, noting that the campaigns and super- PAC s — while legally forbidden from working together — manage to coordinate messaging. "They work hand in glove even though there's little formal coordination."
With polls showing the two candidates statistically even nationally, both sides seek to gain the upper hand early to try to influence outcomes in battleground states such as Ohio, Florida, Iowa, Colorado, New Hampshire, Virginia, Pennsylvania and Nevada, according to West.
"Oftentimes candidates save their best material for the last month, when the undecided voters are making up their minds," he said. "I think this year, each side is trying to win the race early. If they can set the tone six months before the general election, they can knock out the other person early."
To that end, Obama's campaign is focusing on Romney's years at Bain Capital, a private equity firm, challenging the Romney assertion that his experience as a businessman better qualified him to deal with economic issues than the president.
The tactic carries some risk, as Republicans and some fellow Democrats call it an attack on legitimate capitalism.
Borger: Will Obama's Bain attacks backfire?
In Iowa on Thursday, Obama carefully acknowledged that private equity was an acceptable and important part of the U.S. economy, but he argued it focused on making money rather than the common good.
"Their main goal is to create wealth for themselves and their investors. That's part of the American way. That's fine," Obama said, adding that "sometimes, jobs are created in that process."
Sometimes, however, it "goes the other way," the president continued, listing outcomes such as layoffs, pension and benefit cuts, darkened factories and bankrupt companies while "investors walk off with big returns, and working folks get stuck holding the bag."
Such a result "may be the job of somebody who's engaged in corporate buyouts. That's fine. But that's not the job of a president," Obama said to applause. "There may be value for that kind of experience, but it's not in the White House."
Obama's surrogates are more direct.
At Bain, Romney "was the puppeteer and people lost their jobs because of his decisions and creditors never got paid because of his decisions, and he and his partners made hundreds of millions of dollars at the expense of those individuals and creditors," Rep. Debbie Wasserman Schultz of Florida, who heads the Democratic National Committee, told CNN on Friday. "That's what he says is the reason we should elect him."
Romney and his supporters, meanwhile, say such attacks by Obama and Democrats are an effort to defect attention from what they called the president's failed record. They cite Obama's 2008 campaign pledges to halve the deficit in his first term as examples of such failure.
"A president who broke his promise to cut the deficit in half by the end of his first term has no standing when it comes to fiscal responsibility," Romney's spokesman Ryan Williams said in a statement in response to the Obama's cow pie attack.
Such rhetoric fits the "win now" strategy described by West.
"If Obama can frame Romney as an uncaring job killer, he wins, and if Romney can persuade people Obama is over his head, he wins," West said. "I'm sure they have good material for later on. What they're trying to do now is frame the themes."
CNN 's Becky Brittain contributed to this report.
---
---
DLU Related Posts: